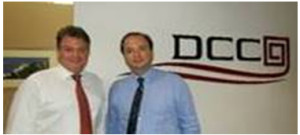 Barely a year since starting, Dyna­mic Cargo Carrier (DCC) Bulk Transport is tripling its fleet to 18 vessels after a tie-up with a major European pension fund.
The Singapore-based bulker outfit of DCC Maritime and the freight trading and commercial management arm of Halkias Group of Greece reveals it has signed a deal with the fund to participate in long-term time charters involving up to 12 ships.
Managing director Mikal Boe declines to disclose the identity of the pension fund but says the partnership marks the fund's ­debut in the dry cargo business. "It has been ­doing this [a strategic tie-up] on the tankers for many years," he said.
DCC Bulk Transport says the fleet that the partnership will fix in for the first year will range in size from handysize to ­ultramax. The geared vessels will work in DCC's global cargo programme, which is being developed with leading charterers and cargo owners.
The pension fund "could have chosen anyone but instead it worked with us because we have no debt and no ships that are killing our cash flow", Boe said. "We have a simple and clear strategy. We are directly in contact with big ­cargo owners and head owners."
The ­ partners intend to grow the vessel count over time and to enter into other ship classes, including panamax and capesize.
DCC Bulk Transport, which controls six chartered-in bulkers, says it will acquire its own tonnage "when the time is right".
"We don't feel the time is right [for buying ships] yet," Boe added. "The market has run up a little too fast and we see some potential downside. We are conservative… rather than chasing the market, we will wait until the time and the market is right."
DCC Bulk Transport was established last September by Constantino Halkias, chief executive of Meandros Lines and Westgate Tankships, to create a dry bulk platform for the group, focusing on building long-term relationships with cargo owners.
"We have been signing up contracts of affreightment and forward cargo contracts with large alumina, fertiliser and cement firms," Boe said. "DCC Bulk Transport is taking a steady brick-upon-brick approach. It is actually planning for the next 10 years."